MOBILE CHIP SDK
Fast and reliable Software Development Kit (SDK) to read and verify the chip data in biometric passports according to ICAO 9303.
Fast and reliable access to chip data
The MOBILE CHIP SDK is a fast and reliable NFC process to access and display the chip data. The SDK can be easily integrated in any application.
Check out also the MOBILE SCAN SDK which enables quick and easy capture of biographic data from the MRZ and PDF417.
Check authenticity - reduce costs
The MOBILE CHIP SDK checks for chip cloning or data manipulation according to ICAO 9303. Verification of Country Signer Certificates is also possible.
Relevant applications
Travel document inspection at borders
ID-proofing prior to document issuance
Remote on-boarding for financial transactions, e-government services and traveler facilitation
Betting offices
Online casinos
Telecom
Rental services
Parcel services
creating confidence and convenience
Combine SDKs from OVD Kinegram
OVD Kinergram provides different SDKs for protecting identities. The MOBILE CHIP SDK can be combined with the MOBILE SCAN SDK and the MOBILE DOC LIBRARY SDK (comming soon). Check out the various possibilities.
MOBILE SCAN SDK
Scan MRZ, MRZ as QR and PDF417 codes and use data in your app to:
fill out guest registrations
calculate ages
fill out forms
MOBILE DOC LIBRARY SDK (coming soon)
Comprehensive library with photos and videos of passports and ID cards
Use demo app
Try the features yourself. Download our fully functional demonstrator KINEGRAM DIGITAL SEAL which includes MOBILE SCAN SDK, MOBILE CHIP SDK and DOC LIBRARY SDK.
Use the store button below.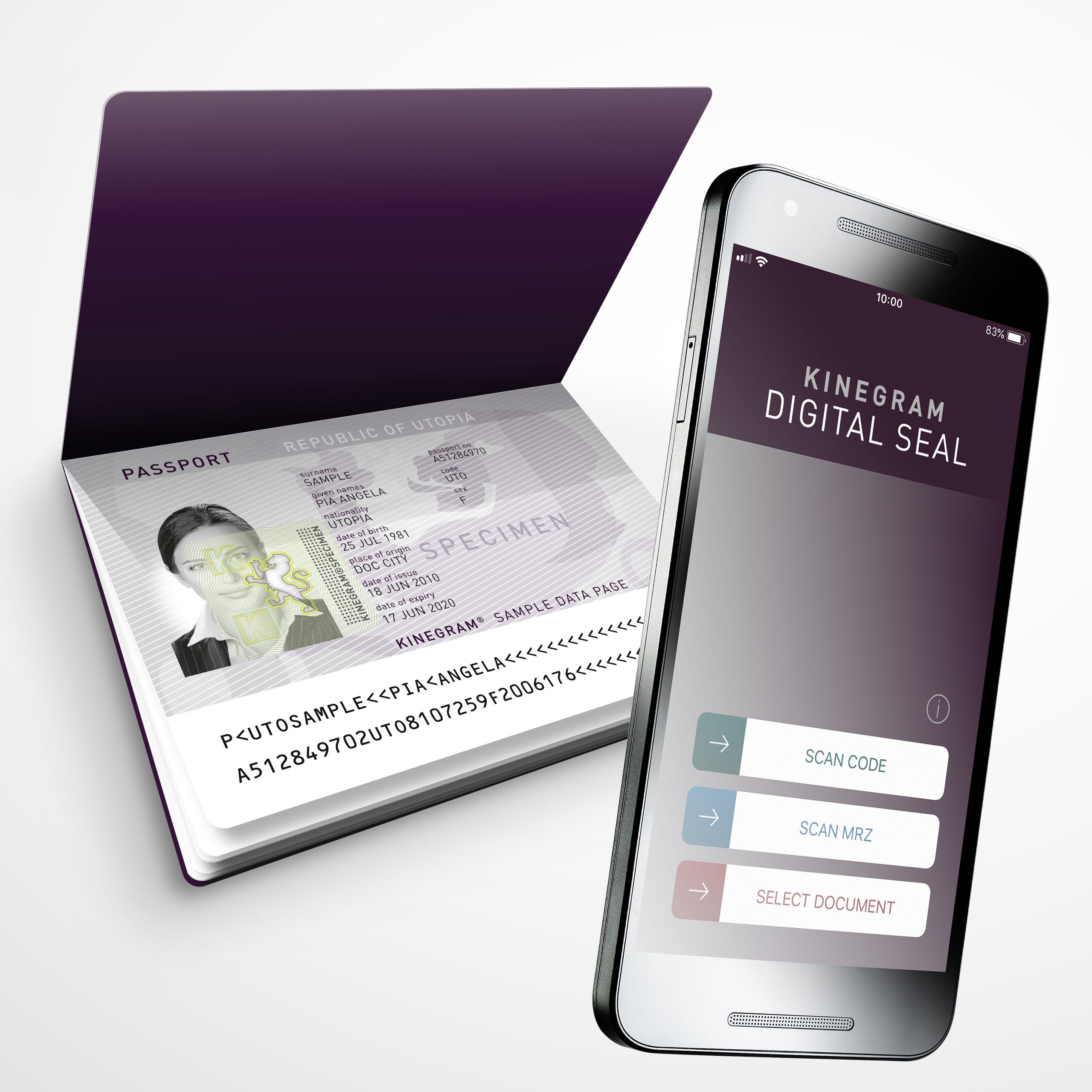 Hungry for more technical details?
Click the button below to see how the SDK can be integrated in your solution. Get answers to your questions on the read-me pages.
Any questions? Ask the expert.
Would you like to know more about this product? Just leave us a note and the product owner will happily schedule an appointment with you. We offer Skype or Webex meetings for demonstrations or individual Q&A-Sessions. Fill out this form and we will contact you shortly.
Sinice 1985 OVD Kinegram has managed over 600 governmnet document security projects worldwide. We are the achor of trust. The company is based in Switzerland and is a member of the german KURZ group.
We know document security
The optical element KINEGRAM is the world's most advanced foil based security solution for the protection of government documents and banknotes. More than 120 countries trust the KINEGRAM and the innovative capacity of OVD Kinegram AG.

Certificates:
ISO 14298:2013 Management of Security Printing Processes
CWA 15374:2018 Security Management System for Supplier to the Security
ISO 9001:2015 Qualitiy Management System
ISO 14001:2015 Environmental Management System
ISO 45001:2018 Occupational Health and Safety Management System